Hazelnut Cake with Coffee Chantilly
Finally I have gotten my hands on a recipe from the Denon culinary school in Tel Aviv. And what a recipe it is! The original version is laden with pistachios and a touch of berries. Mor, my fellow green lover, graciously sent me her own twist on this recipe after I went crazy for her version on her Instagram. Now that it's in front of me, I'm even more in love.
Denon opened in the middle of my school year at the Israeli Institute for Culinary Arts. It made a lot of noise, especially because some of our instructors left to join the new school. One of them, Michal, was one of my favorites and I was really sad to see her go. Oh well, now I have taken one of their recipes captive. Actually, if I would have tasted this cake then, I may have asked to transfer.
To avoid pistachio overdose, especially after the previous pistachio overload, I went with a hazelnut cake with coffee chantilly. The combination works excellently. This hazelnut cake is an ode to the nut and sings its praises with every layer, no matter which nut you choose to use. So Mor, thank you very much. This post is entirely dedicated to you (and ironically contains no pistachios).
---
Not nuts about nuts?
---
* Don't like coffee? Drop the coffee from the recipe and replace it with a teaspoon of vanilla (which you add during whipping).
* Want a nuttier hazelnut cake? Drop the coffee from the recipe and replace it with 20 g hazelnut paste. Add this paste to the 80 g heavy cream and bring them to a boil together.
* Afraid of making caramel? Confront your fears and extinguish the darkness! Or… just drop the hazelnut praliné from the recipe. Another option would be to buy it ready made.
* Prefer pistachios over hazelnuts? Drop the praliné from the recipe (or make a pistachio praliné according to this recipe). Replace each hazelnut in the recipe with pistachio. Prepare a pistachio paste following this post. Instead of coffee in the Chantilly, add 20 g pistachio paste to the 80 g heavy cream and bring them to a boil together.
* The amount of gelatin powder is too small to weigh? Make a bigger batch from let's say 10 g powder gelatin and 50 g water, and weigh 12 g gelatin mass for the recipe.
* Not festive enough? I decorated the smaller cakes with a cool chocolate decoration I learned from this video on YouTube.
---
---
Gelatin mass
2 g gelatin powder
10 g water
Hazelnut praliné
100 g sugar
100 g hazelnuts
35 g water
A pinch of salt
30 g heavy cream
Hazelnut crunch
50 g softened butter
50 g light brown sugar
70 g hazelnuts
50 g flour
A pinch of salt
Hazelnut paste
80 g hazelnuts
Hazelnut biscuit
45 g hazelnuts
55 g almond powder
100 g powdered sugar
65 g egg whites (a little less than 2 medium eggs)
40 g sugar
80 g butter
15 g potato flour
A pinch of salt
70 g egg whites (about 2 medium eggs)
10 g egg yolk (half a yolk)
25 g hazelnut paste
Coffee Chantilly
80 g heavy cream
12 g gelatin mass
110 g white chocolate
160 g heavy cream
5 g instant coffee in granules (1 tbsp + 1 tsp)
Equipment
For the big cake: round baking rings, 18 & 20 cm in diameter
For the small cakes: 4 round baking rings, 8 cm in diameter, and another one 7 cm in diameter
Pastry bag fitted with a smooth round 1 cm piping tip
---
The recipe makes: 1 hazelnut cake and 4 small cute ones
---
Advance prep
Gelatin mass: Sprinkle gelatin powder over the water, mix well and keep in the fridge for at least half an hour. Cut into small pieces before use.
Peel & roast hazelnuts: Roast about 300 g hazelnuts in a preheated oven to 180 °C / 355 °F for about 15-20 minutes. Remove from oven and pour hazelnuts on top a clean towel. Cover with the towel and rub the hazelnuts until most of them are peeled. Let cool at room temperature and then weigh the amount needed. For more ways to peel hazelnuts, check out this post.
Hazelnut praliné
Make caramel: Put water and then sugar in a saucepan. Place on medium heat. Stir the sugar with a spatula to dissolve it. Once the water starts to boil, stop stirring and remove the spatula. Keep on medium heat until you get an ember – light brown color. (You may slightly tilt the saucepan now and then to get a more uniform heating).
Important (!) The more you cook the caramel, the darker the color will be. The caramel might become bitter.
Once you reach the desired color, remove the saucepan from heat. Immediately add hazelnuts and salt to the saucepan. Mix until all hazelnuts are covered in a thin layer of caramel. Pour the caramelized hazelnuts and all the remaining caramel onto a baking paper (no need to separate them just yet). Let them cool at room temperature.
Break the chunk of hazelnuts into smaller pieces and transfer to a small food processor. Grind in short pulses until you obtain a powder and then grind again at high speed until you get a creamy hazelnut paste. Scrape the sides occasionally. The process could take up to 10 minutes. Weigh 80 g of praliné and put it in a bowl. Keep the rest in the fridge for some other use.
Bring heavy cream to a boil. Pour immediately over the praliné and mix well. Keep in the fridge for at least an hour or until the cream is firm enough for spreading and piping.
Hazelnut crunch
Place hazelnuts and flour in a food processor. Grind them to a powder. Be careful not to grind it too much otherwise you'll get a paste. Transfer the powder to the mixer bowl. Add soft butter cubes, brown sugar and salt. Attach the paddle attachment and mix on low-medium speed until dough is formed.
Place the dough between two parchment papers. Roll out (or actually, spread) the dough with a rolling pin to a thickness of 3 mm. Keep in the freezer until set (about 15 minutes). Preheat oven to 150 °C / 300 °F.
Using the 18 cm ring, cut out one big circle. Using the 7 cm ring, cut out 4 small circles. Place the cut outs on a baking sheet lined with parchment paper. Place in the oven and bake for about 10 minutes. Remove from oven and cool at room temperature.
Place the 20 cm ring around the big cut out. Place the 8 cm rings around the small cut outs. Keep aside. Make sure the sheet is straight and doesn't warp during baking.
Hazelnut paste
Grind hazelnuts in a small food processor until you get a creamy paste. Scrape the sides and bottom occasionally. Transfer 25 g of the paste into a small bowl and keep aside. Keep the rest in the fridge for some other use.
Hazelnut biscuit
Place hazelnuts, almond powder and powdered sugar in a food processor. Grind them for about half a minute to get a powder. Be careful not to grind it too much otherwise you'll get a paste. Transfer the powder to medium bowl. Keep aside. Preheat oven to 160 °C / 320 °F.
French meringue: Whip 65 g egg whites in a mixer on medium speed until thick white foam is formed. While still whipping at medium speed, add sugar gradually and slowly. After all sugar is added, increase speed to high and whip until you get a strong and firm meringue (otherwise the batter will be too runny and will leak from the ring, as you can see above in my photos).
In the meantime, melt the butter. Add potato flour and salt to the powders and mix. Add the rest of the egg whites and the yolk as well and whisk it all together. Add the hazelnut paste and whisk again. Transfer a table spoon from the mixture to the melted butter. Mix well and return it back to the mixture. Whisk well.
Fold the meringue into the mixture in two parts using a whisk. Weigh 250 g of the batter and pour it into the big ring. Pour the rest of the batter in the small rings up to 2/3 of their height. If needed, flatten the surface using a small offset spatula. Place immediately in the oven. Bake for about 20 minutes.
Remove from oven and cool at room temperature. Go over the sides of the ring with a knife. Release the biscuits from the ring. Remove the parchment paper from the bottom of the biscuits. Transfer to a serving plate and keep in the fridge until assembly.
Coffee Chantilly
Break the chocolate into small pieces and put them in a bowl. Put 80 g heavy cream in a tea kettle and add coffee. Bring it to a boil while stirring to melt the coffee. Remove from heat. Add gelatin mass and mix well.
Pour immediately over chocolate. Mix with a whisk from the center of the bowl until the mixture is uniform. Pour the rest of the heavy cream in a thin stream while whisking all along.
Cover the surface with plastic wrap. Keep in the freezer for 15 minutes and then in the fridge until it's cold enough for whipping.
Put it all together!
Remove the praliné from the fridge. Spread a thin layer of praliné over the biscuits, but leave the edges clean. Remove the chantilly from the fridge. Whip it on high speed until you almost get soft peaks (beware not to over whip, the goal is to get a texture that resembles very thick yogurt).
Fit a pastry bag with a 1 cm tip and fill it with the chantilly. Keep in the fridge for about 10 minutes until the chantilly is firm enough for piping.
Pipe small mounds of chantilly on top of the biscuits, outside in. Fit a pastry bag with a 4 mm tip and fill it with the remainder of the praliné. Pipe little droplets between some of the chantilly mounds.
If you like, you may sprinkle cocoa powder on top, but I found that to be unnecessary. Keep the hazelnut cake in the fridge in an airtight container.
Yum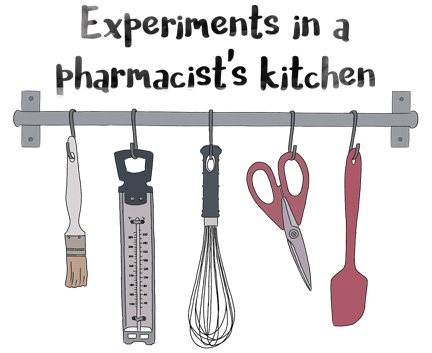 Search the blog
Get updates by email